Welcome to Murcia Cycling
Riding on quiet, smooth roads through breath-taking
scenery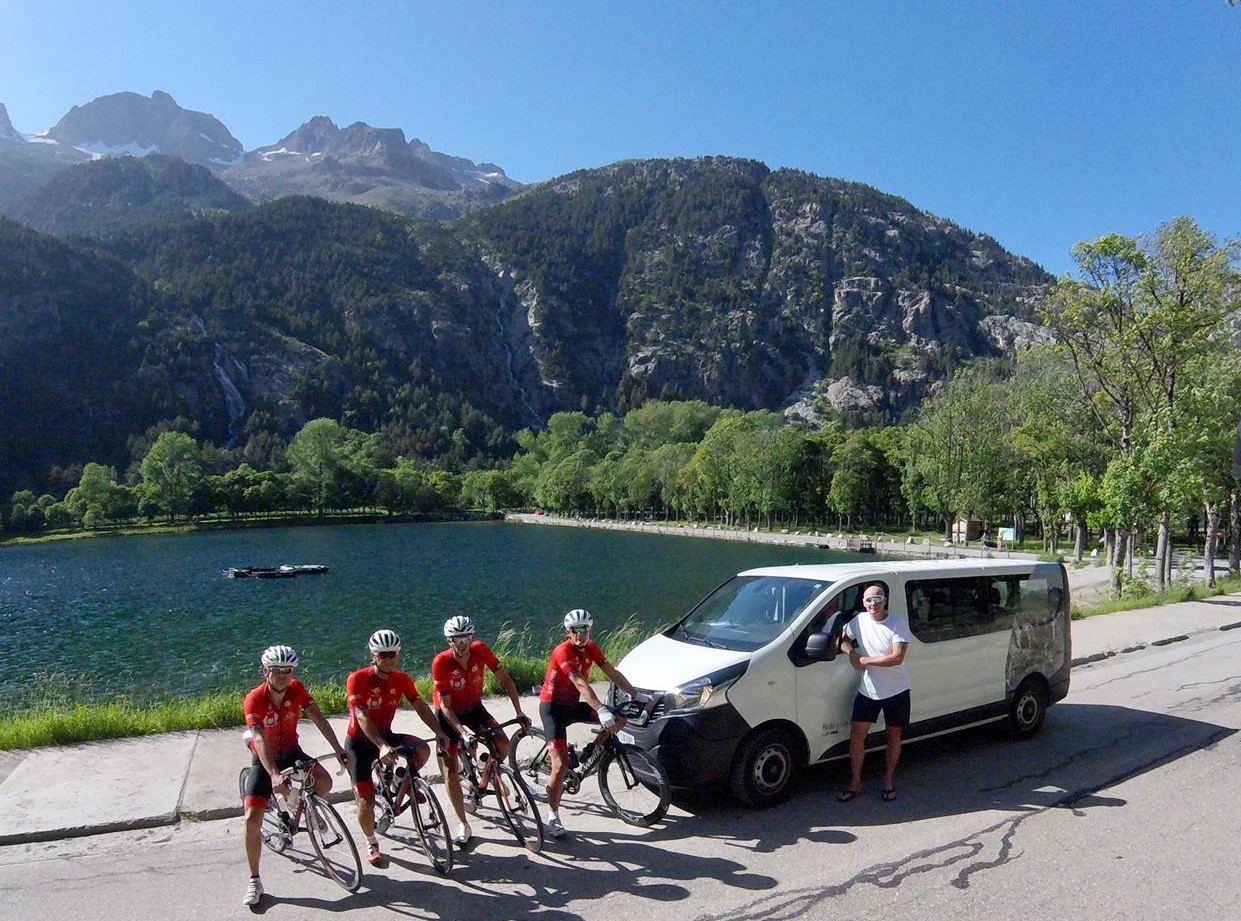 Guided and supported
Our fully guided, fully supported cycling program is designed with the rider in mind aiming to provide training or just touring opportunities as required.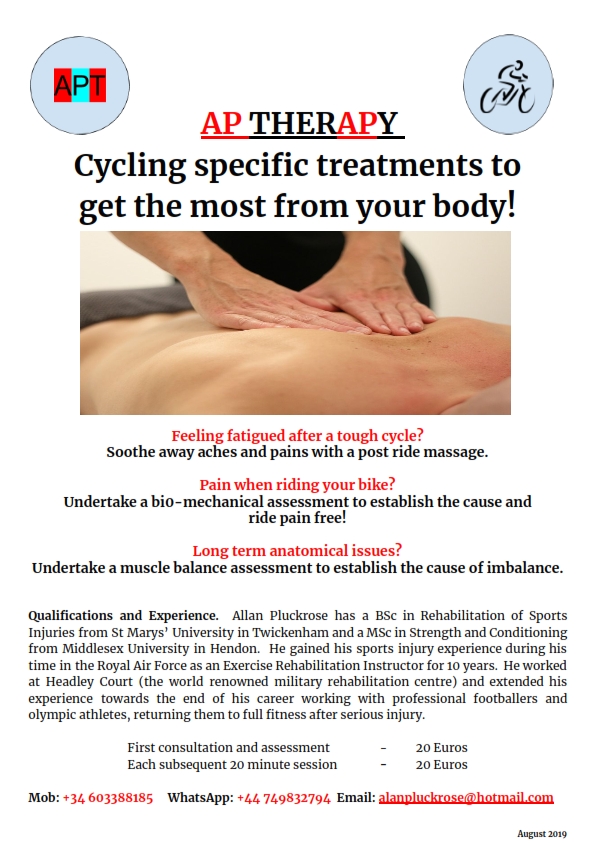 Massage and Bio-mechanical assessments
First class massage service and bio-mechanical assessment now available upon request.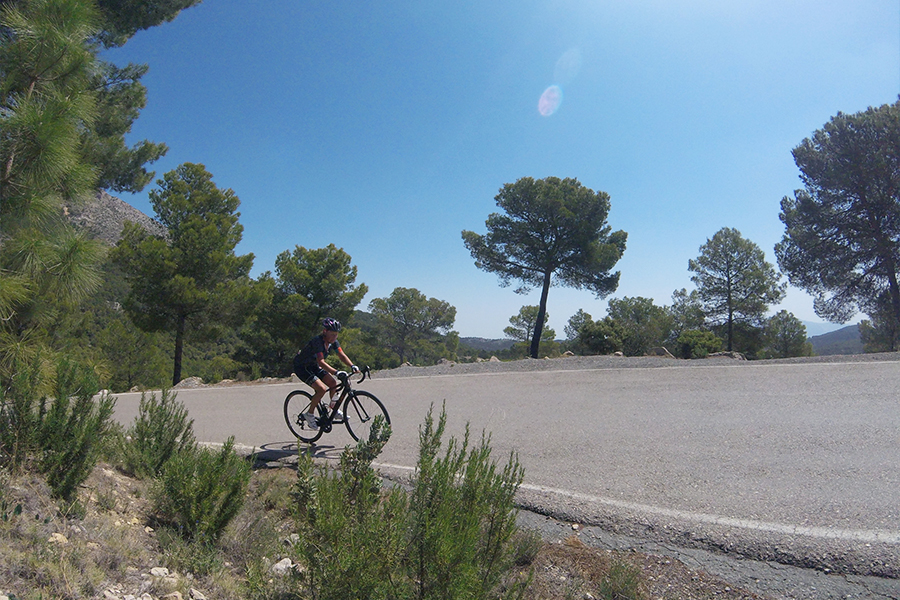 Unrivalled climate
With an average of 320 days of sun per year and an unrivalled climate, the region of Murcia is the perfect all year round cycling destination.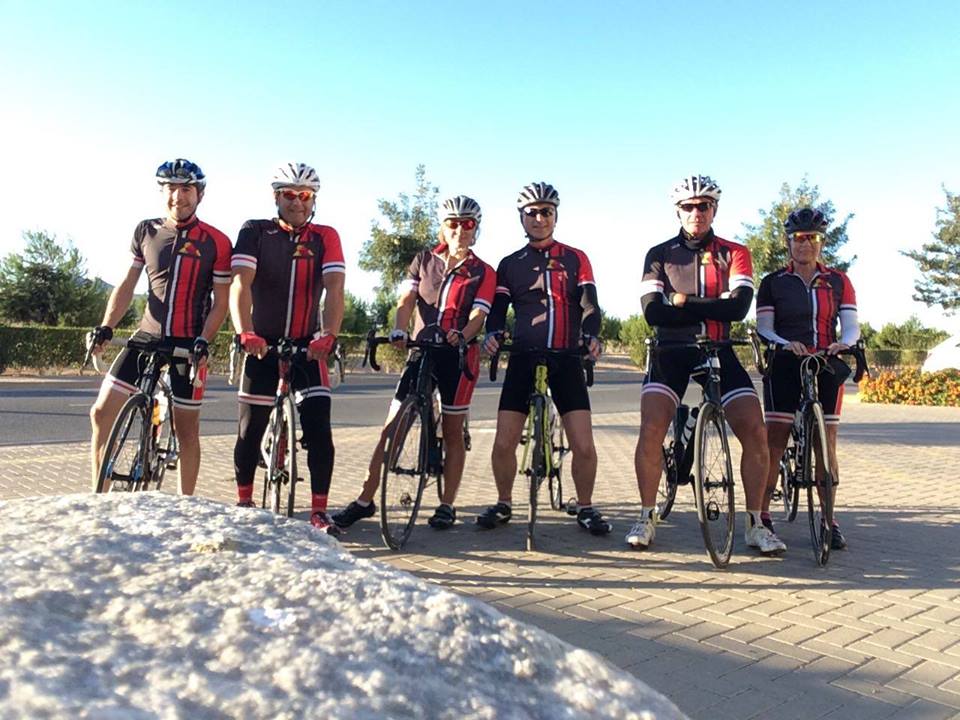 Bike Camps
Bike Camp Murcia.
The region offers varied terrain, coastal roads, flat countryside & challenging mountains including the Sierra Espuna.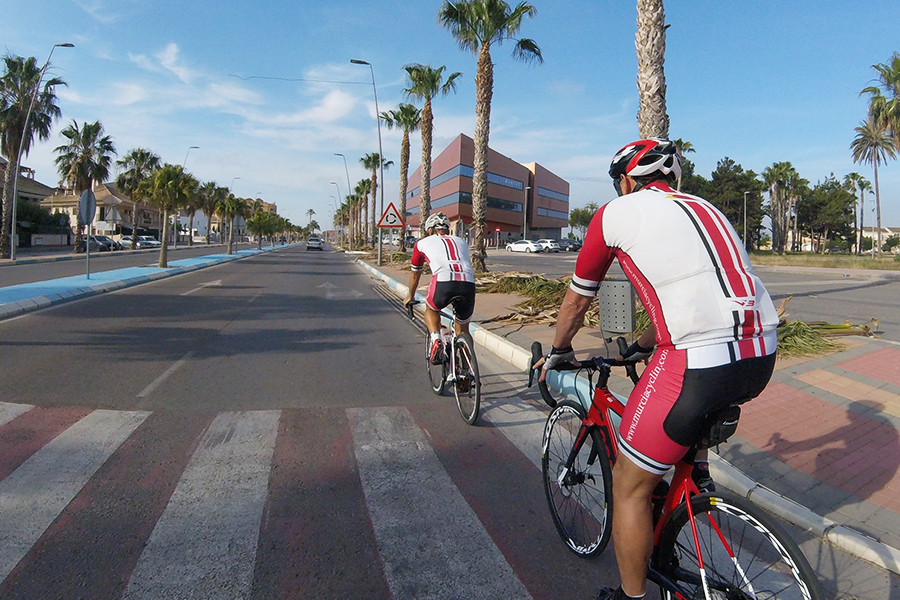 Individual and groups
Year round guided cycling breaks, training camps are designed for large or small groups with all levels of ability.

Unspoilt Spain
Discover the regions beauty whilst training hard or whilst merely riding at a comfortable pace
Popular with cyclists from years gone by
Cresta Del Gallo
Finish of Stage 8 La Vuelta Espana 2015
Crystal clear waters and clean sandy beaches
We have just returned from a memorable five day cycling holiday.  
The accommodation at Roda Golf was very spacious, and immaculately clean.  Mike, and his wife, Sarah, were fantastic hosts and nothing was too much trouble.  Mike organised our bike hire, transfers, and a tailored welcome pack for our arrival, and even a trip to the local super market.
Mike's professional approach, knowledge of the area, and enthusiasm, complimented the fantastic roads and breathtaking scenery on our daily routes.  
We would highly recommend Murcia Cycling to anyone with a passion for cycling, and we are currently planning our next trip.  
Diolch yn fawr
Angela and Steve Williams
I would also like to thank Mike and Sarah for guiding us round and looking after us for our time in Roda. (Special thanks for the cheesecake!!)
It was the best I've felt on the bike in over a year and I had the best condition I've ever had. It was made even better by having such great company on and off the bike and I've made some great new friends, so a big thanks for being true gentlemen!
Thank you for looking after myself and Owe's and putting our health and fitness at heart. We will owe you one in the long run!
Just settled in here in Cambrils and its freezing! 6 degrees and the windchill is probably 1!
Hope you are all enjoying being back at home, see you all soon.
Best regards,
A sincere thanks to Mike, our host and so to you all who provided the essential dynamics, unselfishness, generosity, competitive sprit and  fitness levels which were all an absolute pleasure for a week in the winter sun.
If you have photos that you would like to share that would be great, I will get around to sorting mine out later this week.
Sincerest thanks to you all.
See you soon
"If you are thinking of trying out cycling in the Murcia area then my only advice is to go for it! Mike has a fantastic knowledge of the area and introduced me to some absolutely stunning rides. The roads were isolated (we saw more bikes than cars!), and the views were breathtaking. This truly is a beautiful part of Spain and in all honesty in order to get the best from it I would recommend that you take a cycling tour with Mikes company Murcia Cycling.
The ride up Sierra Espuna was a match for any alpine climb I have done and to top it off the weather is much more predictable and pleasant. I do not think you would find a better host than Mike, nothing is too much trouble and he is a truly passionate cyclist, which really enhances the experience. Additionally, the benefit of having support vehicles and a fully guided route are also a massive advantage and guarantee that you will get the most from this experience. I thoroughly enjoyed the trip Mike and I can't wait to return to experience more of what the area has to offer. Thanks again".
Mark Egan
Would like to add my thanks to you all for a great week. My aim for the week was to shed a few Kgs-unfortunately I managed to add a Kg, so I'm not quite sure where I went wrong there, after all we nearly cycled 400m. Maybe it was the Cafe con Leches, or maybe the Guiness on the Sunday afternoon? Would love to do it again. Good to luck to you Os with your Ironman training, and Jack for the coming season with 3M. As for us oldies, keep on cycling!
Diolch yn enwedig i Mike a Sarah, am eu caredigrwydd.
Cofion,
Dr Aled Williams
Mike just to say a big thank you for organising the rides while we were staying on Roda Golf. Using Murcia Cycling took the pain out of planning our own routes and resulted in some great days riding based on your local knowledge. The routes, scenery and food were all first class and the resort was an excellent base for both riders and family."
Kevin Hoban
Just returned from a fantastic cycling holiday in Murcia. Superb luxury accomodation, fantastic weather and Mike and Sarah really were the perfect hosts, they made us feel at home and nothing was too much effort.
The cycling was fantastic, Murcia is a superb cycling region incorporating stunning scenery with plenty of mountain climbs(check out the Sierra Espuna) and flat plains to suit all riders. Mike ensured that we all enjoyed the experience whatever the riding experience of those involved.
Each day was topped off with a return to Roda resort. The wife and kids spent the days at the pool or the local beach and then we all would spend the evening at the clubhouse with a well earned beer or two.
A perfect holiday, we have already booked to go back next year for more cycling with friends and their families.
Many thanks
Jon, Sian and the kids